BYU-Idaho isn't exactly your typical college.
And I definitely didn't have the "typical" college experience.
Example 1: There's no sports here. Only intramurals. LAME. So basically there's absolutely no school spirit.
Example 2: People are just straight up crazy here. Walking through the Gardens today, I came across the knights of the round table. Literally. They were all speaking in Olde English accents. I had to sneak a picture.
Example 3: I got married after my second semester of school. Not that this is a bad thing, but I didn't get to form a lot of close girl friendships that I had imagined in coming to college. But, there is 6 lovely ladies that I just love and I'm so grateful for our friendships. And most of their names all start with A's!
Anyways, I kinda feel like I'm in middle school where you make lists of your BFF's but I honestly feel like we don't tell the people we care and love what we feel enough in life! So...Ashley S., Alyssa W., Alex W., and Ally M., Amanda W., and Monica A., thanks for making my college experience so fun!
We might not get to hang out as much as we would like, but you girls are sooo sooo great and I love you!
I'll take quality over quantity any day :)
I got to have lunch with Alyssa and Ashley (and her adorable baby, Ledger) today! Alyssa teaches Zumba in Canada, and Ash and I taught her our favorite Zumba routine in the parking lot. I'm sure we looked ridiculous.
Maybe WE are the weird ones?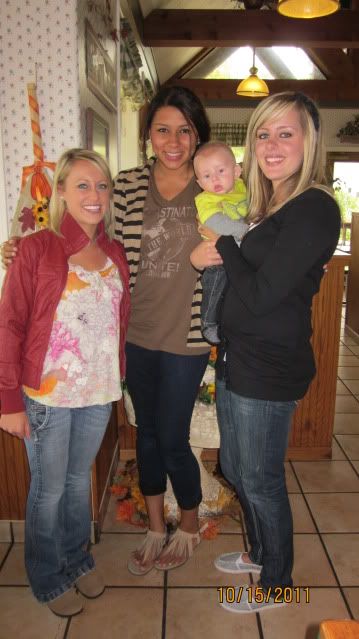 LOVE yall!