I have never made asian food before, but when we tried this at the Ash's house I HAD to make it again. I loveee orange chicken, and this is way better than Panda or any other place.
Promise
.
I'm not a big fan of recipes that have a lot of ingredients or steps, but this one is totally worth it.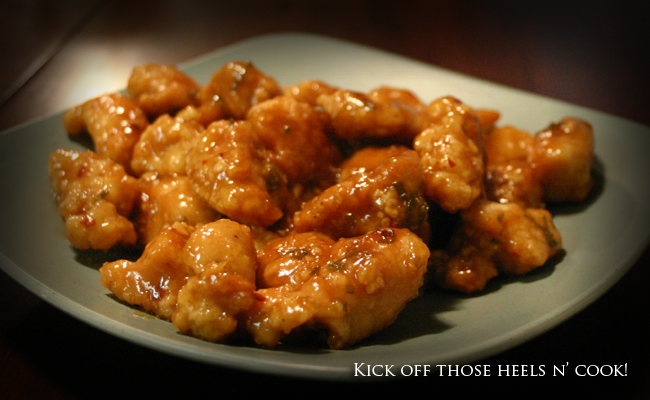 Ingredients:

2 Large Chicken Breasts

1 egg

1 1/2 teaspoon Salt

1/2 teaspoon Black Pepper

Oil (for frying)

1/2 cup Cornstarch

1 tablespoon Cornstarch

1/4 cup Flour

1 tablespoon Ground Ginger

1 teaspoon Minced Garlic

1/2 teaspoon Crushed Red Peppers

1 Green Onion (sliced thin)

1/4 cup Water

1/2 teaspoon Sesame Oil

3 tablespoons Soy Sauce

3 tablespoons Orange Juice

9 tablespoons Sugar

10 tablespoons White Vinegar

1 Orange, zest of (OPTIONAL)
1. Cut up your chicken breasts into bite size pieces. Put the chicken into a bowl. Stir in the egg, pepper, and 1 tablespoon of vegetable oil.
2. In a seperate bowl stir in the flour and the 1/2 cup of cornstarch.
3. Spoon out the chicken from the liquid mixture and put the pieces into your flour mixture. Stir around well until the chicken is fully coated int the flour and cornstarch.
4. Heat up some oil in a large pan on medium heat. Once the oil is really hot, spoon your chicken out of the bowl and set the pieces in the oil in a single layer. Flip each piece over once it is golden brown. When the chicken is cooked and brown, pull it out of the oil and set aside. Dump the oil and clean your pan.
5. In a bowl add the soy sauce, orange juice, sugar, and white vinegar. Stir.
**You need to work QUICK in the following steps and be ready with your ingredients. I burnt my first batch because I wasn't fully prepared...so I had to start over. Get out the remaining ingredients and measuring tools. Have the lids off the spices and have your onion cut so you are ready.
6. Add a tablespoon of oil in your clean pan. Add your ground ginger and minced garlic. Stir-fry until fragrant. (about 10 seconds)
7. Add and stir-fry your crushed red peppers and green onions.
8. Add the sesame oil. Stir for 3 seconds.
9. Add in your mixture that you have in your bowl containing the soy sauce, orange juice, sugar, and vinegar. Bring to a boil.
10. Add your cooked chicken and stir until mixed.
11. Add in the water and the remaining tablespoon of cornstarch. Stir until smooth.
12. Heat until thickened. If you want to add the orange zest you do it at this point. Only add it if you want it to have a lot of orange flavor, as it adds a ton. I would recommend skipping the orange zest if you dont want it REALLY orangy.
13. Serve with rice.